Video: Surf's up Pooches! It's Time For Camp
Posted by Cherie Young on Wednesday, May 20, 2020 at 6:43 AM
By Cherie Young / May 20, 2020
Comment
Video: Surf's up Pooches! It's Time For Camp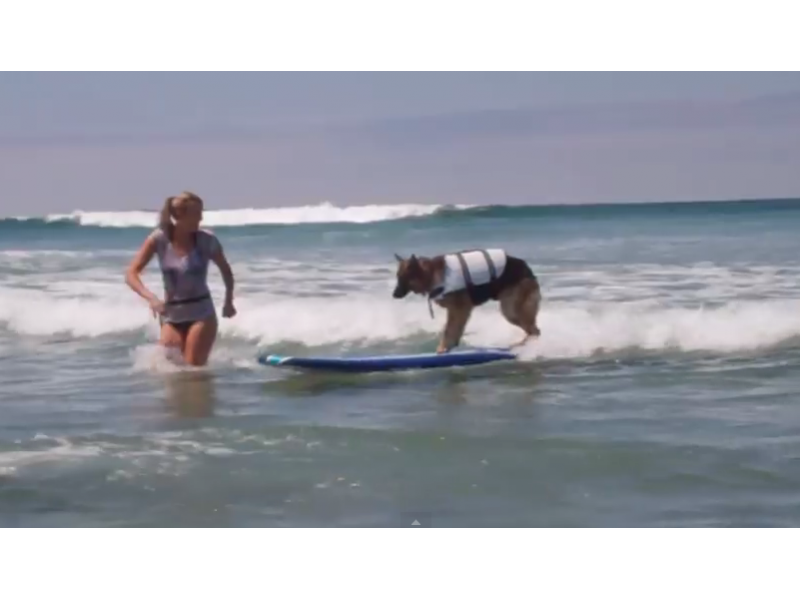 San Diego Dog BeachesSurfing and stand up paddleboarding lessons for dogs begin Saturday, June 20th at Del Mar's Dog Beach run by Helen Woodward Animal Center.
We wouldn't dream of leaving out the calmer-sea-inclined canines either!
Classes are scheduled for 8:30 a.m.; 10 a.m., 11 a.m. and noon.

Surf classes run 50 minutes in length and Paddleboarding classes run 70 minutes in length. Each takes place mostly in the water with brief on-land instruction as an intro, so be prepared to get wet. All classes cost $45 with a $10 discount offered off any additional lessons and include the required canine life-vests and surf or paddle boards.
Dogs who take to the waves are encouraged to register for Helen Woodward Animal Center's 10th Annual Surf Dog Surf-A-Thon™® presented by Blue Buffalo on Sept. 13th, 2015. All proceeds from the classes and the annual competition go towards the animals and programs at Helen Woodward Animal Center.
For more information, questions or to register, go to animalcenter.org or call (858) 756-4117 x 350. You may also stop by Helen Woodward Animal Center at 6461 El Apajo Road, in Rancho Santa Fe.
Article courtesy of Carlsbad Patch.
Dog Beaches in San Diego
Dog Beaches

Dog Beach – Ocean Beach
(24 hr. off leash) – located at the west end of Voltaire St., this off leash dog beach is one of the most popular in San Diego
Fiesta island – Mission Bay
Located in Mission Bay Park, dogs are allowed in all areas except for the Youth Campground and Least Tern nesting sites (seasonal). Daily 6:00 am – 10:00 pm, this area offers calmer waters than the ocean and sand dunes to run on.
North Beach Dog Run – Coronado
(24 hr. off leash) – located on Ocean Blvd. near Sunset Park at the northern end of the beach next to the U.S. Naval Station entrance. Dogs must be leashed until you reach the beach. Foot shower and free dog litter bags at the entrance to the run.
Del Mar Dog Beach – Del Mar
(post-Labor Day thru June 14 off leash) – located at Via De La Valle and Highway 101 at the rivermouth. Off leash area is north of 29th St.
Off Leash Dog Parks & Recreation Areas

Downtown

Grape Street Dog Park – South Park
This 5-acre, unfenced area is available for off-leash use Monday – Friday, 7:30 am – 9:00 pm; Saturday – Sunday and Holidays, 9:00 am – 9:00 pm. Located at Grape St. and 28th Street.
Morley Field Dog Park – Balboa park
(24 hr. off leash) – located northwest of the tennis courts at Morley Field.
Nate's Point – Balboa Park
(24 hr. off leash) – A large, flat, grassy lawn located at Balboa Dr. off El Prado, on the south side of Cabrillo Bridge.

Mission Bay & Beaches

Capehart Dog Park – Pacific Beach
(24-hr. off leash) – Located at the corner of Felspar and Soledad Mountain Road, this one acre park offers two fenced pens, one for small dogs and one for large or all dogs. The park also includes a drinking fountain, picnic tables and benches, and a parking area.
Dusty Rhodes Park – Ocean Beach
(24-hr. off leash) – A 1.5 acre, fenced area located on Sunset Cliffs Blvd. between Nimitz and West Point Loma Blvd. Closed Mondays, 6:00 – 9:00 am for maintenance.

Mission Valley & Old Town

Cadman Community Park- Clairemont
Located at 4280 Avati Drive, the off leash dog park is unfenced and its hours adjust seasonally. No off leash dogs on the 4th of July or Saturday mornings during Little League season.
Kearny Mesa Community Park
Located at 3170 Armstrong Street, this 1 acre park offers one area for all dogs. Parking can be a challenge during the day as the closest parking lot is used by students attending Mesa College.

La Jolla

Doyle Recreation Center – La Jolla
(24-hr. off leash) – Turn south on Cargil Ave from Nobel and turn left on the second street. This one acre park offers two fenced pens, one for small dogs and one for large or all dogs. The park also includes a drinking fountain, picnic tables and benches.

East County

Harry Griffen Park – La Mesa
Located at 9550 Milden Street, this neighborhood park has a designated acre for off-leash dogs.
Wells Park – El Cajon
Open daily from 7 am to 9 pm and lighted for night use, the 1.4 acre off leash dog park has gravel and grassy sun areas and dual drinking fountains (for pets and their owners). Located in the southwest part of Wells Park at 1153 E. Madison Ave.

North County Coastal

San Diego Humane Society & SPCA Dog Park- Oceanside
Open daily from 7:00 am to 7:00 pm, this park features two off leash dog areas, one for more active dogs and one for less active dogs. There are also restrooms, seating, shade and waste bags, but no lighting.
Torrey Highlands Dog Park
One acre park located on Lansdale Drive off Del Mar Heights Road.

North County Inland

Poway Dog Park
Located in the southwest corner of Poway Community Park at 13094 Bowron Road, there are three fenced-in off leash dog areas. The park is open from sunrise to sunset daily, however, lights in the dog park areas continue until 10:00 pm year-round.
Rancho Bernardo Off Leash Dog Park
San Diego's newest off leash dog park, this 2.5 acre park at 18448 West Bernardo Drive in Rancho Bernardo offers leash free space adjacent to Rancho Bernardo Community Park, and includes additional parking for dog park users. Open dawn to dusk except for maintenance.
Rancho Peñasquitos Dog Park
Open dawn to dusk, this one acre off leash dog park has separate fenced ares for small and large dogs, plus benches. It is located on Salmon River Road at Fairgrove Lane across from the Rancho Peñasquitos Branch Library.
Sharing is caring!