Encinitas Homes – Move up or Stay?
Posted by Cherie Young on Wednesday, May 27, 2020 at 5:51 AM
By Cherie Young / May 27, 2020
Comment
You've been in your Encinitas home a few years and things are starting to feel a little tight. When you first moved in you had no children; now you have two. There's no more spare bedroom for your mother to use when she comes to visit because you converted it to a nursery. It seems like all of your friends and coworkers are moving into newer and bigger Encinitas real estate. Is it time for you to follow suit? Ask yourself the following questions to help you reach a decision.

Why do you want a bigger Encinitas home?
Think about why you are considering moving to a bigger Encinitas home. Is it because you actually need more space? Do you want to keep up with your friends? Do you really need a house with a theater room and spa-grade bathrooms?
If you need more space, consider adding on to your existing home. Meet with an architect and/or general contractor and have some preliminary plans drawn up to see if an addition to your home is feasible or even legal. Sometimes building restrictions (zoning and ordinances) will prevent you from adding on to your home or restrict where and how you can build on your lot. If you can modify your home, adding on to your home can be more affordable than upgrading to a bigger home, but not always. Some older homes are not well suited for adding on and doing so can come with a high price tag. For example, if your home was built before 1978, it may have lead paint on the walls and contractors must be certified to work with such materials. Hiring certified workers can be pricey. When remodeling an older home, you might also discover problems lurking behind the walls that will mean extra cost and expenses for you. In these situations, purchasing a newly built larger home may be a better financial decision than adding on to your existing home. The Encinitas real estate market has a lot to offer in the way of new homes that can suit your growing family perfectly.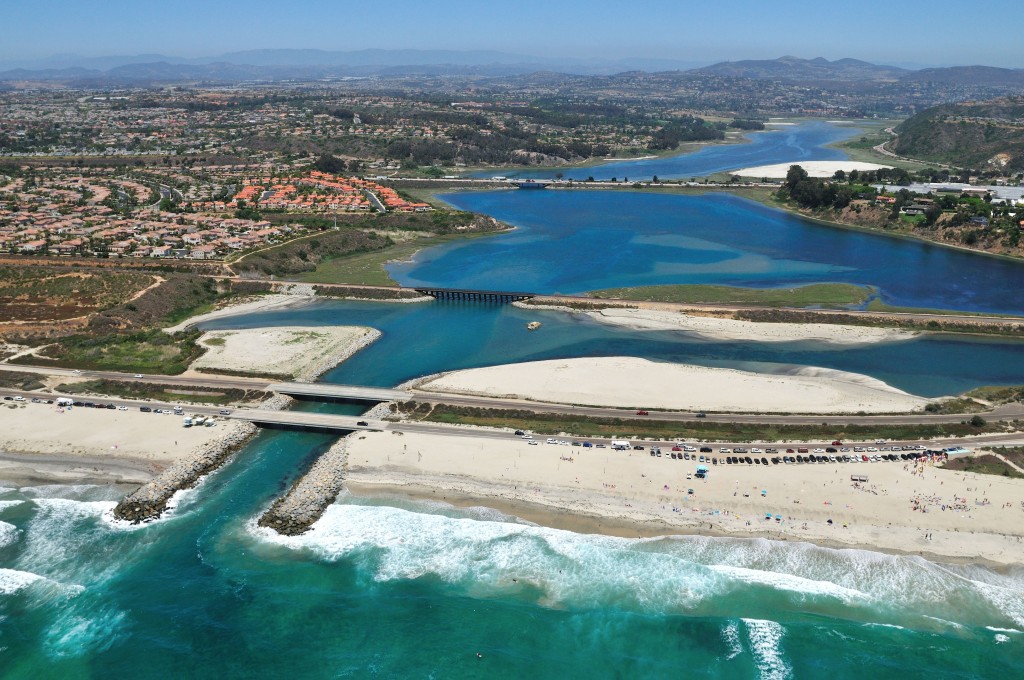 Encinitas Lagoon, photo courtesy of Brett Shoaf, Artistic Visuals
Can you afford the increased expenses?
A larger home often comes with a bigger mortgage payment. Look at your income and expenses. How much more money can you comfortably pay towards a higher mortgage payment? You might want to get an appraisal or market analysis of your home to get an idea of how much equity you have in your home. That, in turn, can help you get a handle on how much you afford in a new home. In addition to an increased mortgage payment for a larger home, you are probably also going to be faced with increased property tax, home insurance, utility, and maintenance expenses. Homebuyers often overlook these costs when they are looking to upgrade their home. For example, your utility expenses will increase because you have to heat, cool, light, and bring electricity to more square footage. In addition, you may have to purchase more furniture to decorate and fill up the extra space. A bigger space means more to maintain, not only in dollars and cents but also in sweat equity. Are you willing to spend more time cleaning and maintaining a bigger space? Can you hire someone or a service to help you with home maintenance and cleaning?
Can you sell your current Encinitas home?
If your home is in need of repairs or if delayed maintenance problems need to be taken care of before you can sell your home, you need to take care of those things before you even consider buying a new home. If you don't take care of these things, you will have a hard time selling your home and getting into a new one.
What do your spouse and kids think about moving?
If a move to a bigger home would take you out of your current school district, how would that impact your children? Would a move to a bigger home mean a longer commute to work for you or your spouse? Have a family meeting to let everyone voice his or her opinions and take everyone's thoughts into consideration when making your decision.
~ Cherie Young ~