Dog Cancer Treatment – Saving lives at Carlsbad veterinary oncology hospital
Posted by Cherie Young on Monday, June 29, 2020 at 7:54 AM
By Cherie Young / June 29, 2020
Comment
Dog Hospital in Carlsbad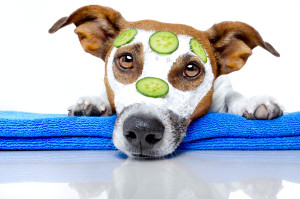 Using specific low-level radio frequency energy, it is a mobile device positioned on the skin over the tumor location. Voyager is being evaluated with the hope and belief that this therapy will be confirmed to be a safe and powerful new tool for the treatment of a wide variety of cancers in dogs.
Over 250 canine cancer patients have received Voyager anti-cancer therapy in this ongoing clinical trial at each of the three centers in Southern California Carlsbad, Murrieta and Ontario.
Each family came with great hope that this non-invasive treatment will be gentle and effective for reducing or eliminating their pet's cancer. Early results have indeed been promising. One such beloved patient is Torri, a well-known champion surfing Nova Scotia Duck Tolling Retriever. Torri developed a cancer on the leg called a mast cell tumor. After one week of treatment, Voyager safely eliminated 90 percent of this patient's malignant mast cell tumor.
Dr. Greg Ogilvie, the founder of CVS Angel Care, has spent his life developing, discovering and searching for innovative, safe and effective cancer treatments for companion animals and their families. Dr. Ogilvie and his team are accepting enrollments in the Voyager canine clinical trials at no cost.
http://www.cvsangelcare.com/articles/Solid-Tumor-Study-Anti-Cancer-Medical-Device/